Namaste is pleased to announce "Soul Full Events".  We host a variety of wellness based classes, workshops and events.  Join us as we give gratitude to the closing week, look with excitement to the week ahead, and create a sense of joyful purpose as we gather to learn and explore new skills.  These events & classes are often in conjunction with other local health and wellness practitioners.
To register for classes online, please visit our "Yoga & Barre" tab for the full schedule of events and classes.
Upcoming Classes     
Melt Anti-Aging Workshop – featuring the 50- Second Facelift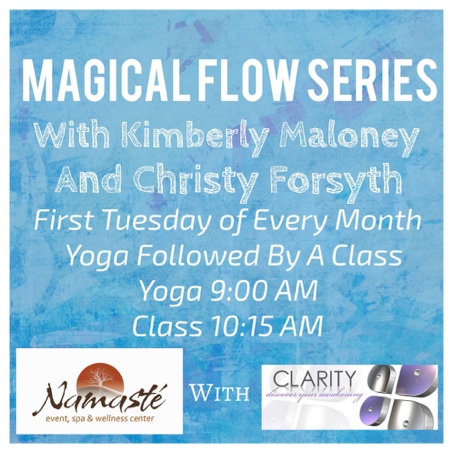 Magical Flow Series

with Kimberly Maloney & Christy Forsyth
First Tuesday of the Month:
Open Flow Yoga Class with Kimberly 9am
Class Series with Christ 10:15am
Feb 6th – Flowing with your intuition
March 6th – Manifesting a magical life
April 3rd – Flowing with signs & synchronicities
May 1st – Tools for more positive & healthy lives
June 5th – Crystals to balance you life
Yoga $10 drop in or yoga class pass
Clarity Class $20 per class
Please note that dates & times are subject to change.  Please call us for the most up to date information.  Registration & payment is required prior to the event.  Cancellations due to inclement weather will be rescheduled.  With the exception of "Come as you are", all class participants must be at least 15 years of age to attend, under 18 requires accompanying adult.  Must be at least 18 years of age for any Reiki Certification class.