Everyone can relax and feel beautiful when you celebrate love and friendship at the Spa. We will help you plan it. Our party planner can put together any combination of services from our menu – including massages, facials, body treatments, manicures & pedicures, hair, makeup, and much more. Our Beauty Bar Salon & Relaxation Room are all available to celebrate spa day events for all occasions. We love pampering spa day groups!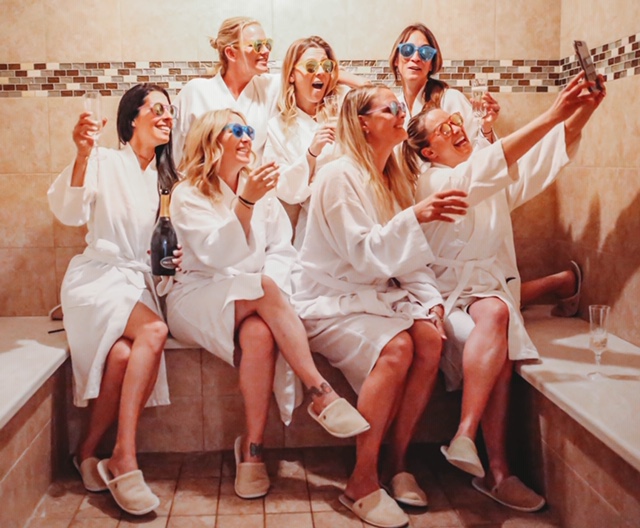 Bridal Spa Day Parties
Birthday Spa Day Parties
Baby Shower Spa Day Parties
Girls Day Out Spa Day Parties
Family & Friend Spa Day Parties
Work Team Building Spa Day Parties
* * *
Namaste'  Spa Day Parties 
Booking a Namaste' Spa Day Party – Sweet & Simple
Groups Big or Small
Step 1 :  Who is in?  Figure out how many people are interested in attending your spa day party
Step 2 : What day ? Around what time ? are you looking to book your spa day party
Step 3 : Email Kimberly – kimberly.namaste@gmail.com to secure date and time
Step 4 : Kimberly will send you a copy of the brochure for all guests to look over!!! Next step is picking Services
Step 5 : All guest need to figure out what service choice(s) they are looking to book! This is a very important step. All services should be schedule at least 2 weeks before event date
Step 6 : Kimberly will need each guest's First Name, Last Name and Service Choice(s)
Step 7 : Option for a private relaxation room for you guest and opportunity to bring in Food and Drink of Choice for a $50 Fee 🙂 So much fun
Step 8 : Debit or Credit Card # number to held appointments and you are good to go!!!!
Step 9: Namaste' works with a 24 hour cancellation policy. This will be given to you upon booking. Thank you for respecting our business and our schedules. We appreciate you and look forward to pampering you and your party soon.
Please keep in mind when booking your spa day: We only have 2 nail stations. We can not accommodate large groups for nail services. Thank you
---
Voted New Business of the Year by the Chemung Chamber! 
Come see what everyone is talking about!  Horseheads finally has a New & Beautiful Full Service Event, Spa & Wellness Center.  Check out our website at www.mynamastespa.com or come in for a tour today.  Sit down with our event planner to go over the endless possibilities for you, your friends and family.  Namaste`
For more information or to book your party or event, please contact Kimberly Maloney by email at kimberly.namaste@gmail.com